New article: 3D superlocalization of nanoparticles with subnanometer accuracy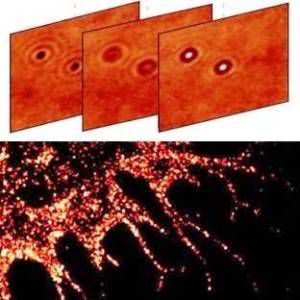 Super-resolution microscopy techniques such as PALM/STORM/STED are revolutionizing optical imaging. While diffraction is no longer a limit, another technical barrier arises driven by the need to compensate for mechanical and thermal drifts at the nanoscale. In a recent article published in Nature Communications, we introduce a novel approach to enhance the image quality in dSTORM microscopy by 3D super-localization of nanoparticles with unprecedented nanometer accuracy.
Significance:
- We show how to exploit the phase response of nanoparticles to recover their 3D position with sub-nanometer accuracy, two orders of magnitude below the diffraction limit, even with large and unknown drifts of several microns.
- The platform uses a commercial wavefront sensing camera to realize highly efficient 3D stabilization and resolution improvement for super-resolution microscopes.
This work provides a leap towards the design of optical super-resolution microscopes with nanometer resolutions, reaching the dream of biological imaging at the molecular scale.
Pour être informé des derniers articles, inscrivez vous :