Picosecond lifetimes and high quantum yields in plasmonic dimer antennas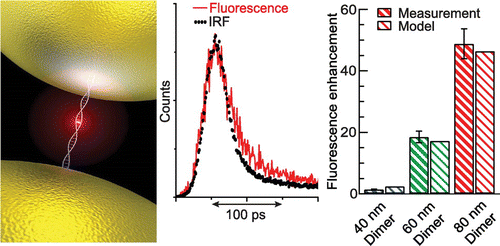 Coupling single fluorescent emitters to plasmonic resonators is essential in optimizing solid-state light sources. However, the non-scalability of the current approaches remains still a major challenge. In a recent ACS Nano publication, we overcome the scalability issue and demonstrate the self-assembly of colloidal nanostructures associating a single molecule to optimized gold nanoparticle dimers.
Significance:
- We achieve the large scale bottom-up production of millions of reproducible samples deterministically coupling a single emitter to plasmonic optical antennas.
- The nanoemitters achieve luminescence lifetimes down to a few picoseconds (some of the shortest ever reported) and importantly maintain a high quantum yields of 70 %.
- Our data uniquely quantifies the statistical dispersions of the fluorescence intensity and decay rate enhancements in plasmonic dimer antennas.
Pour être informé des derniers articles, inscrivez vous :