Single step protein immunoassay in solution phase
Enzyme-linked immunosorbent assay (ELISA) is the workhorse of current immunodetection. However, ELISA demands multiple steps of sample incubation and washing cycles, which makes the whole process time-consuming and labor-intensive.
Our new Analyst publication "Single-step homogeneous immunoassay for detecting prostate-specific antigen using dual-color light scattering of metal nanoparticles" reports a novel immunoassay technique that is significantly faster and simpler than ELISA, without compromising on the assay sensitivity.
Significance:
- This novel technique performs immunosensing in a single-step in homogeneous phase. No rinsing, no washing are involved. Its operation is remarkably simple: Mix-Incubate-Detect.
- We detect where ELISA is not sensitive enough, down to the sub-picomolar regime while keeping the workflow simple and fast.
- The demonstration of PSA detection is highly relevant for monitoring cancer recurrence after radical prostatectomy, when the PSA blood concentration reaches values below the ELISA limit of detection. It is straightforward to implement for point-of-care monitoring of cancer evolution.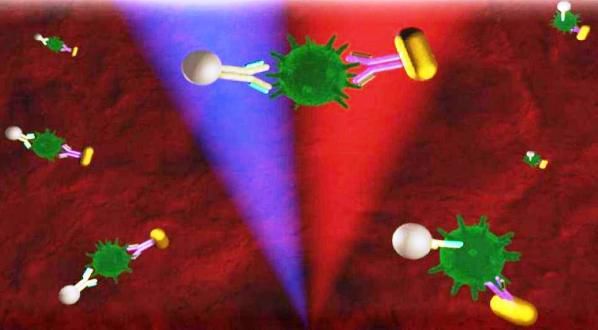 Pour être informé des derniers articles, inscrivez vous :