Microsphere-enhanced single molecule fluorescence
Our latest paper has been published in the July issue of the Journal of the Optical Society of America B. Free reprints for personal use only are available on our group website here.
In this manuscript, we investigate the interaction between a dipolar emitter and a dielectric microsphere under focused laser illumination. We present a detailed experimental analysis of the fluorescence emission characteristics, and relate our observations to numerical simulations.
Our findings demonstrate that the microsphere acts as a microlens placed in the emitter's near-field, allowing a more efficient focusing of the incident beam as well as increasing the collection of the fluorescence light up to 60% of the total emission. That last figure is more than all the emission normally emitted in the half-space towards the detectors.
This simple scheme outperforms the classical diffraction-limited detection of fluorescent particles, and opens new opportunities for low-cost and highly parallel single-molecule investigations.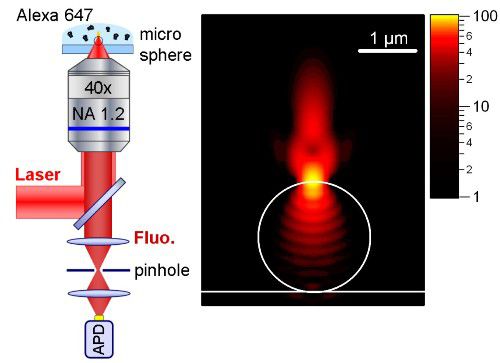 Pour être informé des derniers articles, inscrivez vous :